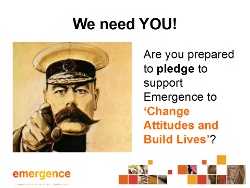 The case for a change in mental health is overwhelming – and the case is even stronger for personality disorder (PD), one of the most maligned and misunderstood mental health diagnoses.
To step up our fight to end the stigma associated with PD, on July 8 at our Open Day, we launched our Pledge Campaign – we were delighted that all 150 delegates signed it promising to support Emergence to Change Attitudes and Build Lives.
One Open Day delegate expressed what everyone at the event was feeling: "We are witnessing the birth of a movement," she said. "Together we will Change Attitudes and Build Lives for all those affected by personality disorder. I can't wait."
This new website section will soon be packed with information, materials and templates to help you raise awareness of personality disorder … however you might choose to do that.
We will also soon be uploading a short guide to help you devise and run local campaigns. It will include information such as:
Provide advice on how to devise a plan for your campaign
Give you some basic, compelling facts about personality disorder
Practical advice on the type of activities you might want to launch
Guidelines how to use our logo and strapline: Changing Attitudes Building Lives
Kath Lovell, Emergence managing director, explains "We all need to play our part in ensuring we are heard by key influencers and bring about the necessary, lasting change to improve the lot of all those affected by personality disorder."
If you haven't done so already, please join our campaign by clicking on the "Support Us" button.