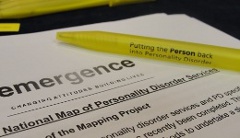 As a service-user led organisation, Emergence has a huge breadth of knowledge and experience, from a service user and carer perspective, which has been gathered over the years. This places us in the perfect position to provide training and consultancy services to any organisation that is dealing with the challenges of personality disorders (PD).
Our expertise lies in personality disorder service development and strategy and in training and consultation regarding the complexities surrounding the diagnosis of personality disorder and how it affects service users, their families and carers and the services established to care for them.
We aim to work collaboratively to:
Provide support, advice and information
Increase public and professional understanding of personality disorder
Challenge the associated stigma and social exclusion experienced by individuals affected by this diagnosis
Stimulate further health and social policy responses into the prevention and treatment of personality disorder and the reduction of stigma and discrimination.
Emergence's services are split under the following distinct headings:
Knowledge and Understanding Framework (KUF): A major part of our work is delivery of the KUF awareness training which seeks to improve service user experience by developing the capabilities, skills and knowledge of the multi-agency workforces, in health, social care and criminal justice, who are dealing with people with a diagnosis of personality disorder.
The KUF awareness training is available to commission through our partner, Institute of Mental Health. We offer two packages: Basic Awareness and an additional 'Train the Trainers' package to facilitate you to cascade the awareness package through your organisation.
Should you already have trained professional trainers, but require the input of a service user trainer, we can provide fully approved, supported and supervised service user trainers. Our KUF trainers have undertaken enhanced training to co-facilitate and assist your rollout.
Emergence also provides expert consultancy to help you plan and implement your delivery on a regional or local scale.
Bespoke training: We offer tailormade training to a cross section of organisations in a bid to provide the knowledge, skills and competencies required to work with the challenges of PD.
Our goals are to help you improve your capability, capacity and performance.
Examples include:
Complex case seminars
Workshops on a diverse number of topics for a wide range of audiences
Service user/carer speakers/presenters for conferences and to complement your own training packages or events
Consultancy: We already advise a number of organisations with regard to service user and carer involvement. Emergence is able to offer a level of expertise, knowledge and implementation not available in-house.
Research: We are proud of our growing involvement in research activities and boast a number of highly skilled service user researchers who can assist with your evaluation and audit activities or work closely with your organisation to formulate and undertake full research proposals.
Direct services: We have a number of activities specifically designed for service users and/or carers, including the use of arts and creativity.
You can commission our highly regarded drama or art workshops for your local service users and carers, and we can work with you to replicate, on a local/regional scale, our highly successful London Arts and Social Network (ASN). In addition you may wish to consider commissioning a carers support group.
Partnership working: As statutory services undergo significant revision and change, Emergence would be delighted to work with your organisation as a partner in future procurement and bidding processes. Indeed working in authentic and equal partnerships with professional or clinical partners is one of our preferred methods of working as it brings together all types of lived experience in a thoughtful and dynamic way to deliver and improve PD services for all.